Cooking and baking with SteviaSweet – how it works!
With its irresistible sweetness, the natural sweetener from the stevia plant offers an ideal alternative to sugar. Because stevia products are calorie-free, more and more people are leaving conventional sugar on the shelf. But there are also a few things to note when using the sweetener. As stevia is 200 to 300 times sweeter than conventional sugar, the wrong dose can cause a bitter aftertaste to develop.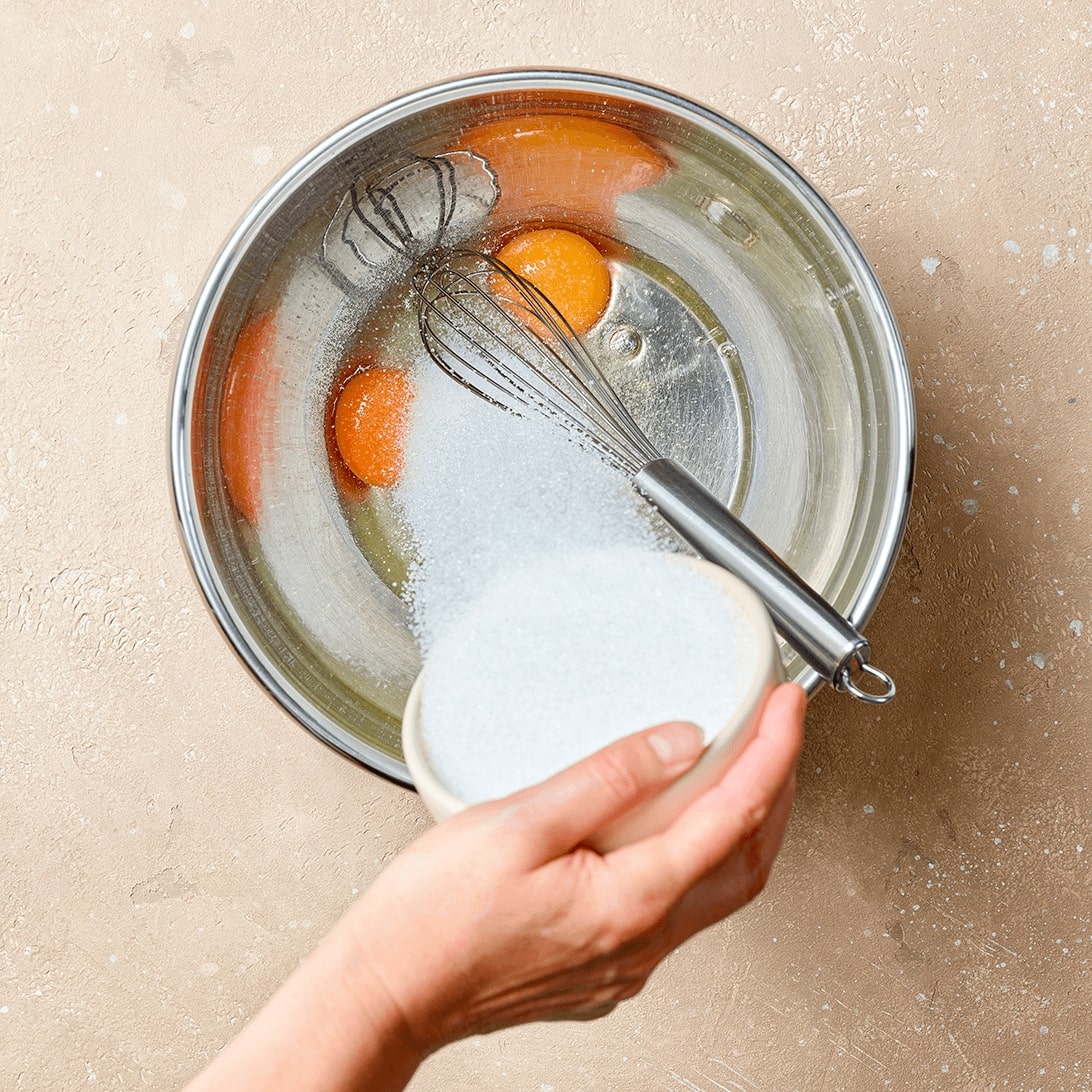 SteviaSweet Crystal: sweet indulgence with no calories – thanks to erythritol and stevia
SteviaSweet Crystal is composed of erythritol and stevia (i.e. steviol glycosides). Unlike sugar and other sugar substitutes, it contains no calories at all, providing a natural way for those with a sweet tooth to reduce calorie consumption.
Erythritol is a carbohydrate that consists of polyalcohols and is metabolised in the body without influencing insulin levels. Erythritol and stevia have a glycaemic index of zero, meaning that they do not influence blood sugar levels. (More on the glycaemic index) This property makes SteviaSweet Crystal an ideal sugar alternative for diabetics. The sugar substitute erythritol is also an excellent choice if you suffer from fructose intolerance and do not tolerate xylitol well.
And SteviaSweet Crystal has yet another advantage over sugar: It is kind to your teeth. Erythritol and stevia give caries bacteria no chance to multiply and produce lactic acid, preventing the formation of caries. That benefits both adults and especially children.


General tips
Are you unsure how and where to use stevia? First, familiarise yourself with the natural sweetener – we've put together a few key tips for you.
Many stevia products can be used just like sugar: just replace the sugar one to one. Cooking and baking in particular, however, take a little experience, as specific properties can change the results slightly. We provide you with lots of recipes that were developed with SteviaSweet and are guaranteed to work – a great way for you to enjoy cutting out sugar.
Find the stevia product best suited to your application.
If you want to freeze a dish, use a little more stevia when preparing the recipe.
Add a pinch of salt to your dishes with stevia – it intensifies the taste.
For more depth, add an additional flavour, such as vanilla, cinnamon or cardamom.
Combined with the bitter-tasting compounds in coffee, stevia can cause a liquorice taste. Do you like it? Give it a try.
Cooking with SteviaSweet
Did you know that lots of sauces contain a significant quantity of sugar? When cooking, you can save lots of sugar and calories by using stevia. It also supports your low carb diet.
Of course, there are many more delicious treats to try, too. Have fun indulging in our sugar-free recipes – bon appetit!
Baking with SteviaSweet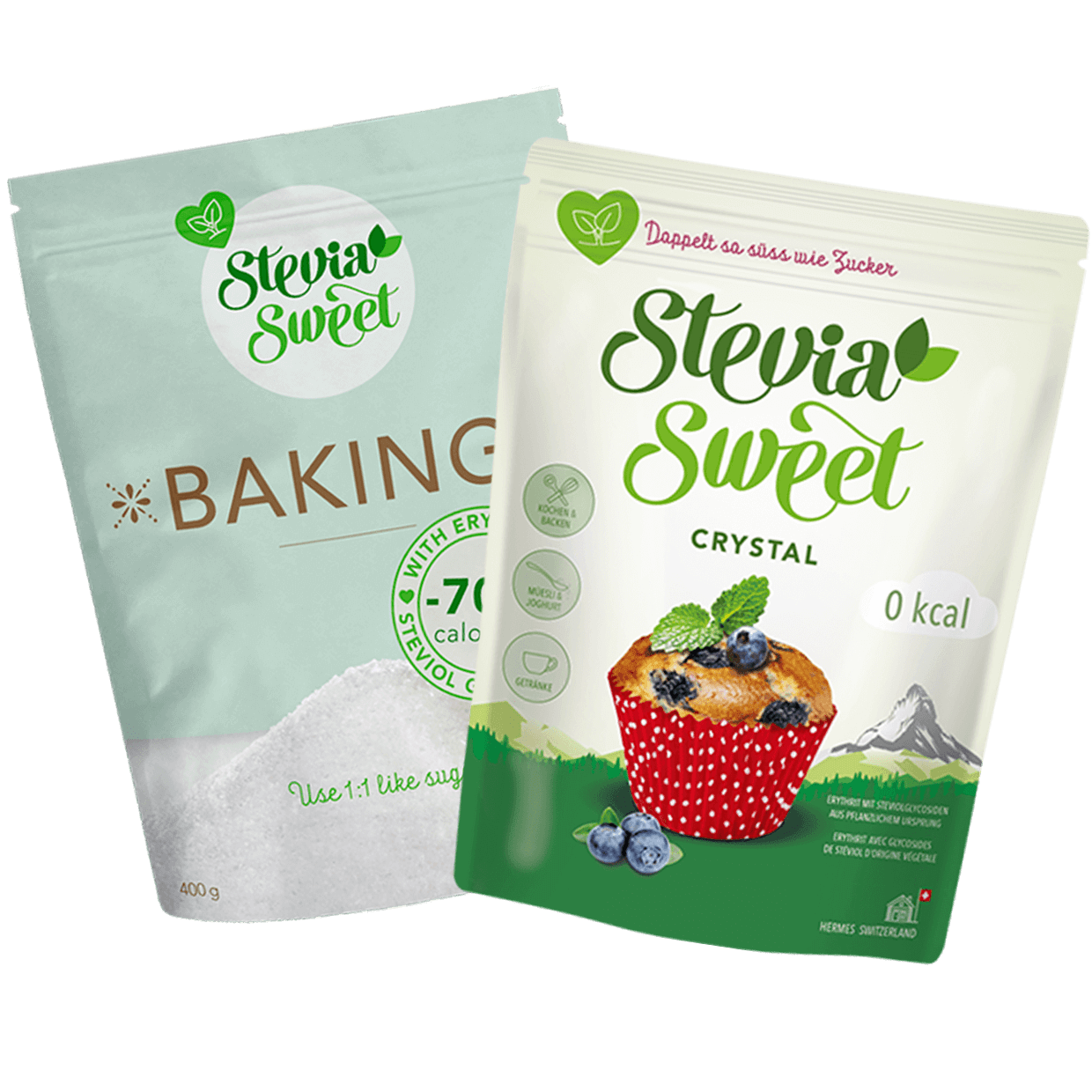 Natural sweetener stevia is available in a wide range of forms; for baking, we recommend SteviaSweet Crystal or SteviaSweet Baking. We created the products especially for cake, muffins etc. In combination with erythritol, isomaltulose and stevia is the ideal sugar substitute here.
Erythritol is extracted from natural raw materials such as corn or pears and serves as a carrier for the baking products. Products that consist of 100% erythritol have a sweetening effect of just 0.8 to 1 compared to sugar. In contrast, SteviaSweet combines erythritol as a raw material with stevia, making it twice as sweet as sugar.
Household sugar plays a range of roles in baking. One the one hand, it caramelises at high temperatures, creating both flavour and a browning effect. On the other hand, sugar also produces volume and helps to form structure.

As stevia has different properties from sugar, you need to be aware of a few things when using it in baking:
Your cake will be lighter in colour.
To achieve more volume, separate the egg white and beat until stiff before adding it to the cake batter.
Stevia products contain less moisture, so you need to eat up your baked goods faster!
To make sure your baking is a success, we have developed delicious sugar-free recipes for every occasion. Needless to say, our team has tested all the results – and declared them "outstanding".
Celebrating a children's birthday party? Try our recipe for sugar-free and flourless chocolate cake. Having a garden party? How about sugar-free walnut apple bundt cake? Want to treat your colleagues in the office? They'll love your sugar-free lime and coconut muffins!