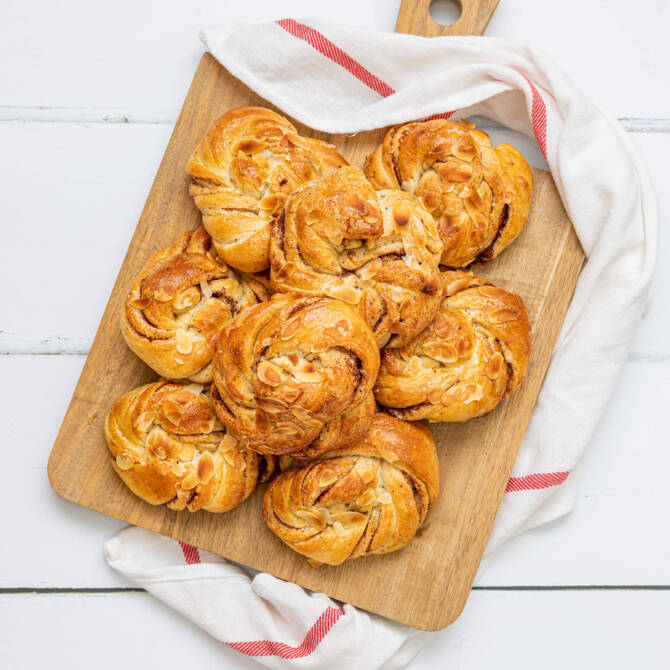 Sugar free cinnamon buns
Take your time and put a lot of love into it: Then our cinnamon buns will turn out especially well. ✔︎ sweetened with stevia ✔︎
Nutritional information per portion
Preparation without sugar
Mix together milk (42 °C), egg and spices.
Combine the dry ingredients and instant yeast.
Add to the liquid and knead into a smooth, supple dough. Finally, add the melted butter.
Cover the dough with a clean cloth and leave to rise in a warm place for around 15 minutes.
For the filling: Mix the cinnamon, SteviaSweet Baking sugar and white flour with the softened butter.
Once the dough has risen, place it on a floured surface. Roll out the dough into a square around 5 mm thick. Spread a thin layer of filling evenly across the dough.
Fold a third of the dough from the top side down to the lower side and to the centre, then fold the bottom side to the top side. You now have a rectangle of dough with three layers.
Slice into 3-cm strips using a sharp knife or pizza cutter.
Turn the strips onto their sides so that the cinnamon swirl is visible. Squeeze the ends slightly so that they do not unravel in the oven.
Cover the cinnamon buns with a clean cloth and leave to rise in a draught-free place for around 45 minutes or until doubled in size.
Brush the buns with egg and sprinkle with almond slivers. Bake on the middle shelf of the oven at 225 °C for approx. 10 to 15 minutes.
Back
Ingredients for 16 servings
| | |
| --- | --- |
| 250 ml | milk |
| 1 | egg |
| 460 g | white flour |
| 50 g | SteviaSweet Baking sugar |
| 2 tsp | cardamom |
| 1/4 tsp | salt |
| 11 g | instant yeast |
| 100 ml | melted butter |
Filling
For brushing and decoration
Back