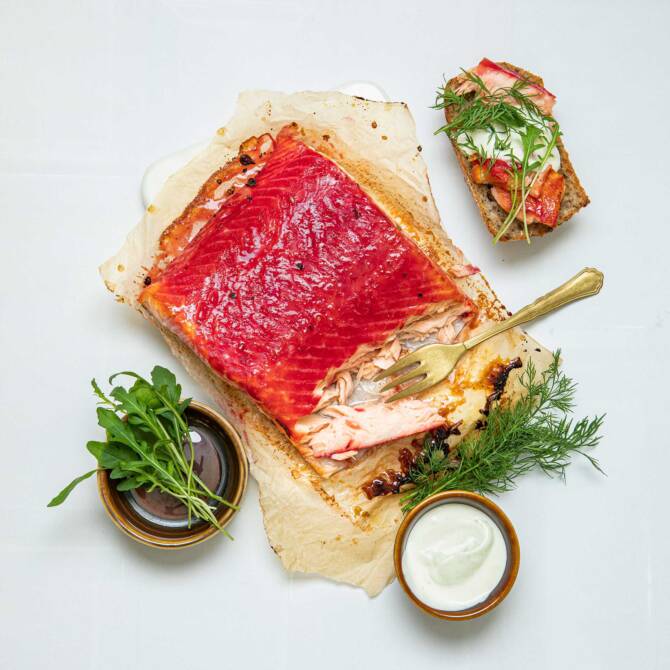 Beetroot glazed salmon with wasabi sauce sugarfree
Want something delicious from the oven? Our salmon fillet glazed with honey and beetroot is easy to prepare and healthy!
Nutritional information per portion
Preparation without sugar
Peel the beetroot and grate coarsely.
Grind the fennel seeds in a pestle and mortar or wrap them in a towel and crush with a rolling pin.
Place the salmon in a deep plate with the skin facing down.
Mix the grated beetroot, salt, fennel seeds and SteviaSweet Crystal and marinate the salmon in the mixture.
Leave to marinate in the fridge for about an hour. After an hour, turn the salmon over and coat the skin side with the beetroot mixture. Leave to marinate for another hour.
Preheat the oven to 225 °C.
Remove the beetroot from the salmon, rub the fish with oil and place skin-side-down on a baking tray lined with baking paper.
After baking, leave to rest for 15-20 minutes and allow to cool to room temperature.
Mix the sauce ingredients and season to taste with salt and pepper. Serve the salmon with good bread, fresh dill, rocket and wasabi sauce.
Back
Ingredients for 6 servings
Salmon
| | |
| --- | --- |
| 600 g | salmon fillet with skin, boneless |
| 2 (200 g) | beetroots |
| 1 tbsp | fennel seeds |
| 50 g | coarse sea salt |
| 1 tsp | SteviaSweet Crystal |
| 1 tbsp | rapeseed oil |
Wasabi sauce
| | |
| --- | --- |
| 200 g | crème fraîche |
| 1 1/2 tsp | wasabi |
| 1/2 | lime (juice) |
| 1 tsp |  SteviaSweet Crystal |
| 1/4 tsp | salt |
| | Black pepper |
To serve
| | |
| --- | --- |
| 6 | wholegrain rolls |
| | rocket |
| | fresh dill |
Back