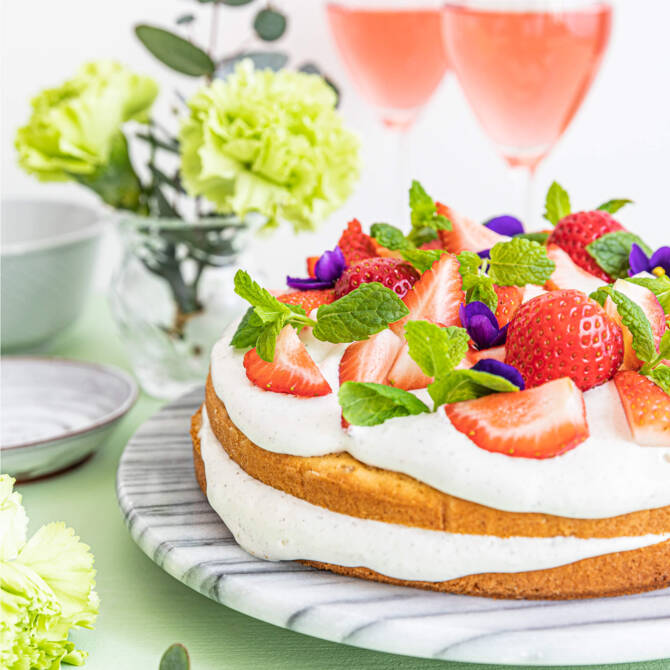 Sugar-free strawberry cake
An unearthly treat for the palate: a sugar-free strawberry cake - light as a cloud, with a fruity base of bananas and apple sauce.
Nutritional information per portion
Preparation without sugar
Preheat the oven to 175 °C. Grease a cake tin (20 cm) and dust with flour.
Puree the banana and mix with the apple sauce. Beat the eggs (once at room temperature) until foamy. Add the fruit puree little by little, whisking all the time.
Combine and mix the dry ingredients and add to the egg foam a little at a time. Carefully knead the dough until smooth. Place the dough into the tin.
Bake on the middle shelf of the oven for approx. 30 to 35 minutes. Occasionally use a toothpick to check whether the base is properly baked. Remove from the oven and allow to cool.
Whip the cream. Add the curd cheese. Add vanilla and SteviaSweet Baking sugar to taste.
Hull and halve or quarter the strawberries.
Divide the cake base into two halves. Sprinkle with a little milk.
Spread the cream mixture and strawberries over one half and place the other half on top. Spread more cream mixture over the top, but not around the sides.
Decorate with strawberries, mint leaves and edible flowers immediately before serving.
Hint: If you want the cake taller, prepare twice as much cake mix and bake in two tins.
Back
Ingredients for 6 servings
| | |
| --- | --- |
| 1 | banana |
| 100 ml | sugar-free apple sauce |
| 3 | eggs |
| 95 g | white flour |
| 100 g | SteviaSweet Baking sugar |
| 70 g | potato flour |
| 1 TL | baking powder |
| 1/2 TL | ground cardamom |
For the tin and moisten
| | |
| --- | --- |
| | butter |
| | white flour |
| 50 ml | milk |
Filling and glaze
To decorate
| | |
| --- | --- |
| | Mint or lemon balm, edible flowers |
Back