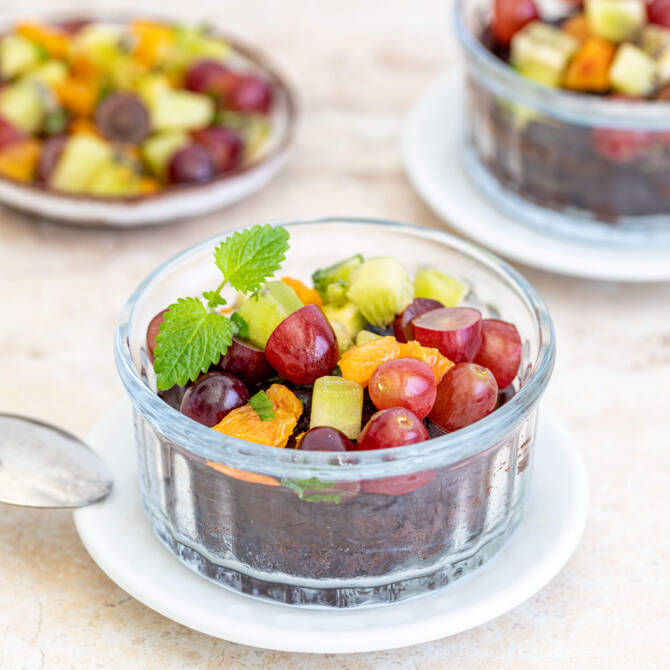 Sugar-free chocolate lava cake with fruit salad
The perfect dessert every time: sugar-free chocolate cake with a liquid core and fruit salad. Long-lasting indulgence guaranteed.
Nutritional information per portion
Preparation without sugar
Peel and chop the kiwi. Wash and halve the grapes. Use a sharp knife to carefully peel and fillet the orange. Press out the juice still left in the peel.
Combine the fruits and add SteviaSweet baking sugar to taste.
Preheat the oven to 200 °C.
Melt the butter and chocolate together carefully in a pan.
Leave to cool slightly, then add the eggs, stirring vigorously. Combine the dry ingredients, then add carefully to the pan and mix.
Spoon the mixture into four small, buttered coffee cups or ramekins and bake on the middle shelf of the oven for 8-12 minutes, depending on size.
The cakes should still be liquid on the inside.
Allow to cool slightly and serve with the fruit salad.
Back
Ingredients for 4 servings
Fruit salad
For the cake
| | |
| --- | --- |
| 200 g | sugar-free dark chocolate |
| 100 g | butter (at room temperature) |
| 4 | eggs (room temperature) |
| 2 tbsp | SteviaSweet baking sugar |
| 2 tbsp | white flour |
| 2 tsp | baking powder |
Back