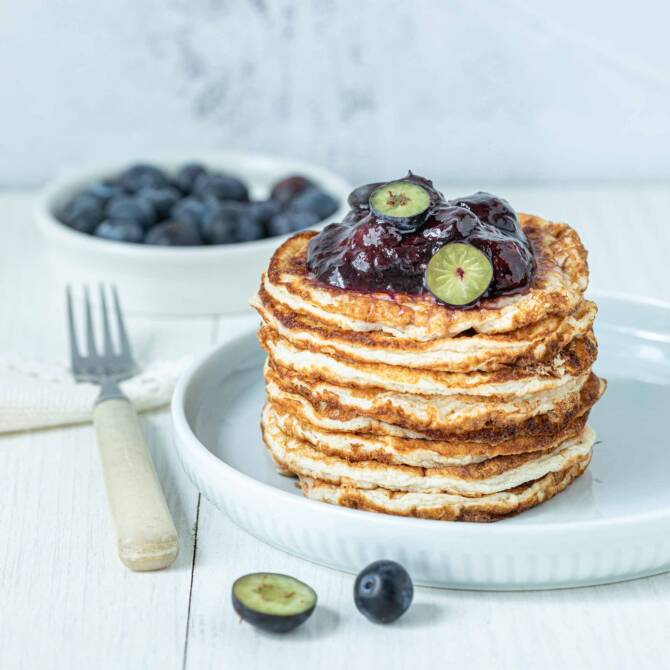 Cottage cheese pancakes with blueberry jam
Fluffy pancakes with cottage cheese, accompanied by homemade blueberry jam with a pinch of cardamom and the sweetness of SteviaSweet: true indulgence!
Nutritional information per portion
Preparation
Start by preparing the jam. Mix the SteviaSweet Crystal and pectin together to prevent the pectin from clumping. Place all the ingredients for the jam in a pan and bring to the boil on medium heat. Simmer for 10-15 minutes, stirring occasionally. Take the jam off the heat and leave to cool while you make the pancakes. The jam will keep in the fridge for around a week.

Place the ingredients for the pancakes in a bowl and blend with a hand mixer. Cook thin pancakes over medium heat and serve with the blueberry jam.
Back
Ingredients for 12 servings
pancakes
100 ml
milk
100 g
cottage cheese
2
eggs
50 g
oats
1 tsp
baking powder
1 tsp
SteviaSweet Crystal
1/4 tsp
salt
Butter for the pan
jam
250 g
blueberries
50 ml
water
1 tbsp
lemon juice
60 g
SteviaSweet Crystal
1 tsp
pectin
1/4 tsp
cardamom
Back